Bill Williams River Area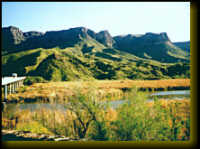 The Bill Williams river provides habitat for fish and wildlife, clean water, forage, and recreational opportunities. It was named after an Arizona mountain man, Bill Williams. The Bill Williams River was historically unique to this section of the Lower Colorado River as a major tributary that was used as a travel corridor by Native American, European explorers and early settlers. The river's flow is now controlled by the Army Corps of Engineers at Alamo Dam.
Wildlife: The river valley provides an opportunity for you to see a variety of wildlife. The river system provides habitat for both migratory and resident birds. Local wildlife includes the bighorn sheep, deer, coyotes, javelina, ring-tail cats, foxes and other more. Aquatic life includes macro-invertebrates, amphibians and fish. Turtles, beavers, muskrats and raccoons frolic beneath the cottonwood and willow trees along the river banks.
Directions: There are only two public access vehicle crossings of the river, on Lake Havasu at the Highway 95 bridge and the El Paso Natural Gas Pipeline Crossong. The lower portion of the river, in the Bill Williams National Wildlife Refuge is accessible from the road south of the Bill Williams bridge on Highway 95.
Wilderness: The Swansea and the Rawhide Mountain Wilderness areas straddle the Bill Williams River between Planet Ranch and Alamo Dam. The Rawhide Mountain Wilderness contains rugged uplands and the scenic Banded Canyon of the Bill Williams River. The Swansea Wilderness includes Black Mesa, a volcanic upland, a more open rive canyon, and two vehicle access corridors to the river.
Directions: Some portions of the Wilderness boundaries can be accessed by roads.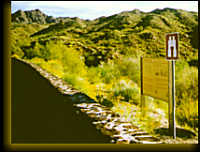 OHV Access: There are many scenic roads in this area. Road conditions vary in challenge level, from the family car to rugged jeep track. Vehicle travel in the Bill Williams area is limited to existing roads and trails. Wilderness areas are closed to vehicles. Please respect boundary signs posted at historic tracks, washes and in the river corridor.
Directions: Be sure to get a map before exploring this area and observe all land owners signs.



Copyright 1997-2003
River Info™
All rights reserved
Site Terms of Use