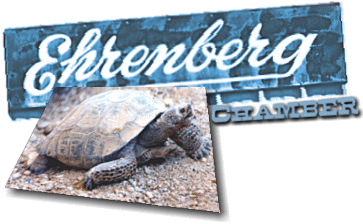 Ehrenberg, a desert community alongside the Colorado River, has a colorful history. It was founded in 1863 as Mineral City, at the site of William and Isaac Bradshaw's ferry landing. In the 1870s, when the Colorado River served as a main source of transportation to the interior of the Arizona territory, Ehrenberg became a major port. Gold crazed Californians crossed the Colorado River at Ehrenberg during the great La Paz rush.
The town was renamed Ehrenberg after Herman Ehrenberg, a surveyor and mining engineer, who was murdered in Dos Palmas, California, in 1866. By the mid - 1870s Ehrenberg was booming, with nearly 500 people living mostly in brush and adobe houses. Mike Goldwater, grandfather of former Senator Barry Goldwater, established a mercantile store and warehouse there.
The unincorporated community has a Mohave Desert setting 200 feet above sea level. Nearby mountains provide topographic relief. Ehrenberg is on Interstate 10, across the Colorado River from Blythe, California. Phoenix is 142 miles east.
Copyright 1998 River Info(tm)
All rights reserved
Site terms of use