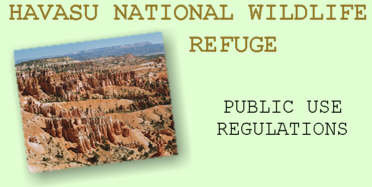 Havasu National Wildlife Refuge is located along the Colorado River extending for 24 miles between Needles, California and Lake Havasu City, Arizona. When the gates closed at Parker Dam in 1941, President Franklin D. Roosevelt created Havasu National Wildlife Refuge to provide habitat and protect wildlife resources within the newly established area.
Havasu Refuge now consists of 44,371 acres, of which 14,606 acres have been designated wilderness. The Colorado River and its backwaters provide over 300 miles of shoreline within the refuge.
General Refuge Information
The refuge headquarters is located in Needles, California. Needles is served directly by I - 40 from Kingman, Arizona to Barstow, California. Arizona State Route 95 intersects the refuge at several points. The refuge is open year round. River access is available from a variety of public and private boat launching ramps at each end of the refuge. Train and bus service are available into Needles. Private aircraft may land at Needles, Lake Havasu, Bullhead City. Scheduled, commercial flights arrive daily in Lake Havasu City and Bullhead City and rental cars are available.
Wildlife
In the lower Colorado River valleys, the natural habitat provides a critical winter food supply for thousands of geese ducks, sandhill cranes, among many other wildlife species, and has done so for several thousand years. Human development whether it be mines, farms, homes, shopping centers, freeways, or rail right - of - ways reduces available wildlife habitat. Providing suitable habitat for wintering migratory birds is the primary goal of the refuge.
The endangered Yuma clapper rail, peregrine falcon, and southern bald eagle all can be found at Havasu Refuge. Numerous species of shore and marsh birds also use the lands and waters of the refuge. Herons and egrets nest in rookeries within Topock Marsh. The Clark's grebe nests in Topock Gorge and visitors frequently see desert bighorn sheep there.
Smaller mammals living on the refuge include coyotes, foxes, and bobcats which feed on the numerous cottontails, jackrabbits, packrats, and mice. A wide variety of neo-tropical birds move through the refuge and many utilize riparian habitat for nesting.
Wildlife species checklists are available at the refuge office and in leaflet boxes at the major entrance to the refuge.
THE THREE DISTINCT SECTIONS OF
HAVASU REFUGE
Topock Marsh
Each year, thousands of visitors come to Havasu NWR to take their boats or canoes onto Topock Marsh or the Colorado River. Among many water - oriented activities, people enjoy fishing, watching waterbirds, or just relaxing on the marsh. With the increasing popularity of the refuge for water oriented activities, visitor congestion, and the problems which a accompany high usage are becoming more apparent. Please follow regulations and respect other refuge visitors.
Topock Gorge
This scenic, narrow canyon has become a favorite destination for many boaters on this section of the Colorado River. The eastern bank of the river forms the boundary for the Needles Wilderness. Boats may enter either end of Topock Gorge and operators must be alert throughout the Gorge to close, two - way traffic. Water skiing, camping, and open fires are not permitted in the narrow Gorge. Several locally published boating guide books give a variety of names to the features seen from the river and some of the boat rental facilities offer detailed strip maps.
Needles Wilderness
With the passage of the Arizona Desert Wilderness Bill in 1990, 14,606 acres or 32 percent of Havasu Refuge was designated as wilderness. Wilderness designation limits some visitor activities, such as vehicular travel of prospecting. However, the wilderness experience for those hiking through the area should be a quiet, peaceful trip.
REGULATIONS
A BRIEF SUMMARY
Due to increasing popularity of the area, it is more important that all individuals operating watercraft and other recreational equipment be familiar with the safety regulations which govern their visit.
All applicable Federal, State and local regulations apply within the boundary of Havasu Refuge. For a complete list of applicable regulations, refer to Title 50 of the code of Federal Regulations, Federal Register and applicable California and Arizona State regulations which may be obtained in the refuge office.
Closed Areas
Personal watercraft (examples: jet skis, waverunners) are not allowed in backwaters off the main Colorado River channel for the 15 mile stretch from the buoy line at the Island/Castle Rock location, north to the Interstate 40 bridge, buoy line. Please watch for buoys and signs.
Boating
Boating is permitted in refuge waters except where restricted by appropriate signs and buoys. All boats are to conform with the appropriate Federal, State, and local laws.
Water Skiing
Water skiing is permitted only on portions of the Colorado River. Skiing is prohibited in Topock gorge and within all backwater areas. There must be an operator and observer on board. The observer is to display a red or orange flag (12x12 inches minimum, mounted on a handle) ONLY when the skier is down in the water. A skier must wear some type of flotation device. Careless operation of water skis is prohibited. Skiing is permitted only between sunrise to sunset. Skiing is prohibited within 300 feet of a swimming beach or within 100 feet of any person swimming outside a designated swimming area.
Swimming & Skin Diving
Swimming, wading, scuba - diving, and skin - diving are permitted except where restricted by signs.
Fishing
Sport fishing is permitted in all waters open to the public except those areas designated by sign or barrier as being closed. State and Federal fishing laws and regulations, plus the following special condition apply: possession or use of trot-lines on the refuge is prohibited.
Frogging
Frogs may be taken during the season by gig spear, bow and arrow, or hook and line, and may be taken with the aid of an artificial light.
Boat Mooring
Overnight mooring of watercraft is permitted for those campers staying in a designated camp area. Boat slips are available for nominal fee at the Five Mile Landing concession on Topock Marsh.
Wakeless Speed
Wake-less speed only is permitted in the harbor of Five Mile Landing concession on Topock Marsh and the entrance and harbor of Golden Shores Marina, located at the I-40 bridge. The backwaters off of the main channel in most of Topock gorge are "No Wake" zones. (See Closed Areas section). Observe and obey signs and buoys.
Motorized Vehicles
All motorized vehicles, including motorcycles, are permitted only on developed roads and parking areas. Driving off roads or on roads closed by sign or barrier is prohibited. Vehicles must be operated safely and operators must be licensed in accordance with State law for street use.
Camping
Camping is permitted on Havasu Refuge, but is restricted to boat and tent camping along the Arizona shoreline below the buoy designating the south entrance to Topock Gorge area. All camping is limited to 7 consecutive nights. Camping is prohibited in Mesquite Bay. Recreational vehicle and tent camping are available at the Five Mile Landing Concession at Topock Marsh.
Fires
Fires are permitted only in the designated camping area of the Five Mile Landing concession.
Hunting and Weapons
Please consult our Hunting leaflets for details.
Littering
Dumping, disposing or littering in any manner of garbage, refuse, or other debris except at facilities designed for that purpose is prohibited. Litter facilities are provided only for recreational users who are swimming, boating, picnicking, fishing, hunting, or camping at that time. Please practice pack-it-in, pack-it-out and always leave your campsite cleaner than when you arrived.