Colorado River News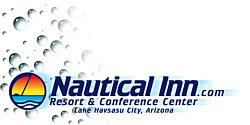 Relics & Rods Club Drives Run to Nautical
LAKE HAVASU CITY, AZ (April 5, 2005) -- The Relics & Rods Car Club is moving their popular Run to the Sun car show to the Havasu Island Golf Course at the Nautical Inn Resort on October 19-23, 2005.
After ten years at the London Bridge Resort and Bridgewater Links course, event organizers have decided to take the show to the Nautical. According to the Relics & Rods event committee, the Nautical will offer several advantages including easy access to parking and a scenic environment for participants and guests.
"Our club is very excited to take the show back to the Nautical," explains Relics & Rods Car Club President Tom Hopple. "The location is beautiful and will make a fantastic place to stage the show for our community."
As scheduled, the display portion of the week-long event will take place Friday, October 21 and Saturday, October 22 on designated holes of the front nine on Havasu Island Golf Course contiguous to the Nautical Inn Resort. Food and drink concessions and other assorted vendors will be operating throughout the show as in years past, and those interested will be treated to a live performance by "Papa Do Run Run" Friday evening. The popular Thursday night cruise and "Show and Shine" will be totally unaffected by the move, conducted as it has in years past on McCulloch Blvd.
"The Run to the Sun is one of our community's greatest annual events for people of all ages," explains Jack Skinner, General Manager of the Nautical Inn Resort. "We are delighted to welcome the Relics & Rods Car Club to the island, and we are all anxious to help them produce the best event possible."
For more information on the Relics & Rods Run to the Sun or Nautical Inn Resort, call the Nautical at (928) 855-2141 or visit www.nauticalinn.com.