Colorado River News
Jet Jam 2005
(April 15, 2005) -- Lake Havasu will boil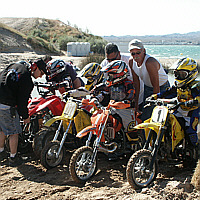 April 30 & May 1 as over 100 of the finest PWC (Jet Ski) riders in the region descend on it for round number 2 of the Jet Jam Performance Weekend racing series. This four year old series of races has a new twist this year with the addition of the Fab Fifties mini-motorcycle race.
Not only will the water boil, the desert too will smoke with these little mini motorcycles, ridden by kids and adults alike on Saturday. The long established watercraft races are qualifying events for the IJSBA World Finals held here in October, and as such are a serious challenge, bringing the best in the sport to the beach at Crazy Horse Campground. You'll see the awesome free-style riders along with endurance racers showing their skills.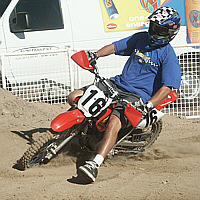 Also new this year is the actual venue. The folks at DSM Events have created a dedicated PWC racing beach in the primitive area at Crazy Horse along with a purpose built race track for the Mini Moto.
There are classes for novices and kids as well as adults in both the PWC and mini-motorcycle racing, and the PWCs race Saturday and Sunday, while the mini-motos take place only Saturday at the conclusion of the racing on the water. Spectators and competitors alike enter the main gate at Crazy Horse and pay just the day use fee of $8 per car and come to Jet Jam cove April 30 & May 1 to get in on the weekend of fun.
JetJam 2005 Flyer, Click Here.
For more information visit www.desertsteel.com
& click the Jet Jam button,
or call (928) 764-2210 and press 2.