NATIONAL BACK COUNTRY BYWAYS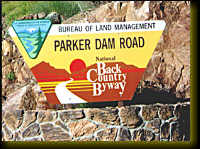 El Camino del Diablo
(The Road of the Devil)
El Camino del Diablo (the Road of the Devil) is a rough, unpaved route crossing the Barry M. Goldwater Range in southwestern Arizona. First used by Native Americans for their travels, the route was chosen by the Spanish soldier Melchior Diaz in 1540. Other historic figure s followed, including Father Kino, Father Graces, and Juan Bautista de Anza. Beginning in 1849, the trail was used by immigrants from Mexico as a route to the California gold fields. Between 400 and 2,000 people died of thirst along the trail, making the Camino the deadliest immigrant trail in North America. Today's visitors travel through natural landscapes with scenery ranging from the desert mountain ranges of the Gila and Tinajas Altas Mountains to the low desert and sand dunes of the Yuma and Lechuguilla Deserts.
Permits:To legally enter the Barry M. Goldwater Range (BMGR) and/or the Cabeza Prieta National Wildlife Refuge (CPNWR), all adults must possess an appropriately issued Range Permit. To receive a Range Permit, all adults (ALL persons over 18 years of age) MUST complete a Hold Harmless Agreement. The permits are available from the Marine Corps Air Station, Yuma, Range Management Department (520-341-3402), Luke Air Force Base (520-683-6272), BLM Yuma Field Office (520-317-3200) or, BLM Phoenix Field Office (602-580-5500). El Camino del Diablo continues through the Cabeza Prieta National Wildlife Refuge. A permit from the U.S. fish and Wildlife Service (Cabeza Prieta National Wildlife Refuge, Ajo, Arizona) is required to travel on the refuge (520-387-5226).
Facilities: There are no services, water, or facilities along this route. Summer temperatures often exceed 120 degrees; during winter, the lows can be below freezing. Bring at least one to two gallons of water per person per day, and pack at least two days extra water and food.
Accessibility: Four - wheel drive is recommended on all routes on the Barry M. Goldwater Range.



Copyright 1997-2003
River Info™
All rights reserved
Site Terms of Use