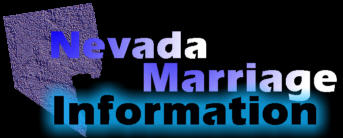 To purchase a marriage license, both parties must appear at the marriage license bureau of a county clerk's office.
Any person 18 or older does not need consent. However, proof of age may be requested. Any person between the ages of 16 and 18 must have the written consent of either parent or legal guardian. In extraordinary circumstances, the Nevada District Court may authorize the marriage of a person less than 16.
Blood tests are not required, and there is no waiting period.
Divorces must be final in the state where granted. The date of the final decree and the city and state where granted are required.
For specific information or to obtain certified copies of marriage certificates, contact the marriage license bureau listed below.
To obtain wedding chapel and honeymoon planning information, contact the local Chamber of Commerce or Visitor's Bureau.
MARRIAGE LICENSE BUREAU
Regional Government Center
101 Civic Way
Laughlin, NV 89029
(702) 298-4622
Hours: Monday - Friday 8am - 5pm, closed weekends, hours subject to change, call for additional information.