Needles was founded in 1883. It was one if the oldest living communities on the Colorado River, rich in history and promise for the future. The growth of Needles has been influenced by the river, Santa Fe Railroad (still the largest employer of the community), Route 66, the Fort Mojave Indians and perhaps most of all by our climate.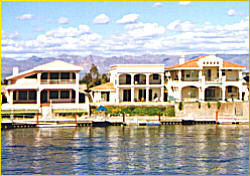 Needles provides you with a relaxing, small - town community experience. A visitor can enjoy our 18 - hole championship golf course near the Colorado River, fish the river's nooks and crannies, view our spectacular desert, or visit the Needles Regional Museum to catch a glimpse of our colorful history. The stately "El Garces", or Harvey House, once a busy transportation center of the tri - state area, is located directly across from the museum. Volunteers at the museum will be happy to tell the story of the Harvey House and the lives it touched during the early 1900's, as well as show you a beautiful array of artifacts.
Approximately 10 miles of driveable Route 66 is located within Needles City limits, with additional stretches in the surrounding areas. The popularity of Route 66 is increasing every day as seen in the growing number of visitors, foreign and stateside, contacting the Needles Area Chamber of Commerce. Many fun runs are constantly in the works to re - live the Mother Road of yesteryear.
A River Info Website
Copyright 1998-99 River Info™
All rights reserved
Site terms of use